Mesto Dobšiná
Dobšiná - the town of miners' glory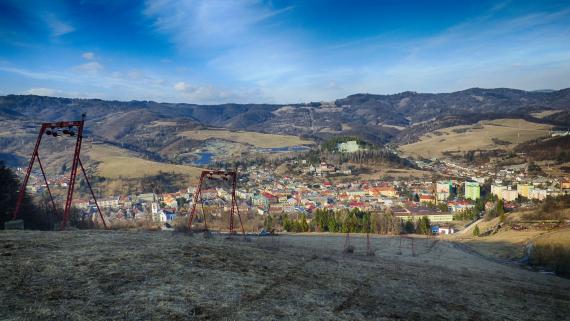 The town Dobšiná lies in the arms of Slovak Ore Mountains (Slovenské Rudohorie), 468 m above sea level. It is situated on the both banks of the Dobšiná's Brook (Dobšinský potok). The field of the sheer and closed valley allowed only oblong-direction development which resulted in its irregular shape.
Dobšiná, the town with rich and interesting history and beautiful scene­ry came into history in XI Nth century as a Slovak community originated by Bebeks. In 1417 King Sigismond granted the right to arrange markets to the community what caused its becoming a miners' town. In various his­torical epochs iron, copper, cobalt, nickel, mercury, asbestos and even silver were mined here. In archives Dobšiná is described as the first His- toric-Hungary steal town. The promising development in XIVth century was stopped by Turks who in 1584 plundered and burnt the town and 362 inhabitants were dragged away to captivity. The town was rebuilt by German immigrants from other miners' regions of East Slovakia. The top of prosperity in ore mining and iron making was reached in XVIIth and XVIIIth centuries. Almost in 1680 the first blast furnace in Slovakia had been built in Dobšiná. Copper from Dobšiná wandered as far as into the Netherlands. Among buyers of cobalt-nickel ores you can find England, Saxony and Belgium. Dobšiná was the leader of the world in cobalt mi­ning. But disclosures of new rich world cobalt deposits led to definitive retreat from the industrial sunny side. Building of iron works in Hungarian Ózd only sealed up this industrial decline. The rich history of iron ore mi­ning finished in 1969. Dobšiná became the centre of crafts and trade, es­pecially in wood and grain. Economical boom created possibilities for de­velopment in society and culture. There was a well-known Latin Gymna­sium (lýceum) where a lot of personages of Slovakian literature life were studied, e.g. Pavol Jozef Šafárik, Juraj Palkovič, Pavol Dobšinský, Karol Kuzmány etc.
The last brighter chapter although not having returned the origin fame of the town was drawn by asbestos mining. Its deposit is now conside­rably exhausted. After decline of mining and iron making farming and sheep and horse breeding started their intensive development.
Dobšiná is now a small modest town with about five thousand inhabij tants. New possibilities to work come into being as a result of expansion of enterpri­se in service trades and travel.
We can find here such well-preserved art-historical and architecture sights as the old Gothic evangelic church from 1480, the baroque-classic church from 1792 and the town hall from 1870 built in the neo-renaissan­ce style. Outskirts are scattered with houses and reminders of old ham­mer-mills, a mill and a sawmill.
Dobšiná's waterworks - a rarity of the town - is a high-pressure power station with repumping. It brings water from the water basin Palcmanská Maša by a power tube with length of 1336 m, treats it and in case of over­supply of power takes it back, while getting over 244 m of height differen­ce.
Dobšiná is for tourists gate to the National park Slovak paradise (Slovenský raj). Dobšiná's Ice Cave discovered in 1870 by young engineer Eugen Ruffiny and countryside give Dobšiná great opportunities to become a popular cen­tre of tourism and holiday-making. Ideal conditions are here for the who­le year. Excellent opportunities especially for huntsmen or medicinal plants and wood fruits pickers are provided by the hill Čuntava 1112 m above sea level.
Dobšiná, the town of ancient mining, traditions, wholeheartedly welcomes all visitors.
Published 5.5.2014
Updated 23.5.2017